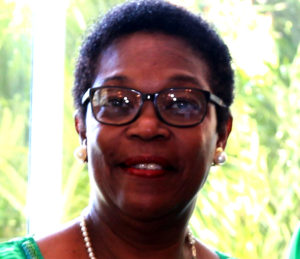 Dr. Ingrid C. Johnson
Dr.  Ingrid Johnson is an Ordained Minister, Intercessor, Counselor and Mentor.  A former Executive Member of The International Third World Leaders Association, and a member of the Pastoral Team of Bahamas Faith Ministries International led by Senior Pastors David and Angela Burrows.
Counselor & Mentor
After years of formal training in mentoring and counseling others, The Holy Spirit has led Dr. Ingrid Johnson to begin training leaders to engage in deliberately mentoring the next generation and the next, and because mentoring is on the heart of God, this call has become her passion.  As a result Dr. Johnson with the help of other mentors have produced a book on KINGDOM MENTORING (click title for preview) which is now widely distributed throughout The Bahamas and other nations throughout the world.  These books are also being used by the Ministry of Education as reference books for teachers and students in the classrooms or small group settings.  In addition to the above, Dr. Johnson has been given opportunities to conduct workshops with teachers in The Bahamas, and with a cross section of government leaders in the Turks and Caicos Islands.  This is in addition to speaking at Empowerment Seminars and Retreats, Conferences and School Assemblies.
Profession
Dr. Johnson is also a Realtor working with Judah Realty & Development Co. Ltd. servicing local residents and foreign Investors in sales and rentals of property throughout The Bahamas.  The passion for Real Estate was born out of a vision given to her by the LORD in 1995.
Dr. Johnson has been a Christian for the past thirty five years, and over the last twenty nine years knew that God's calling upon her life was to prayer and the ministry of the Word.  She is also very active in the Intercessory Ministry of Bahamas Faith Ministries, where she serves as Director, and also assists with Mothers In Zion at her local Church.   Dr. Johnson is an anointed vessel of God who ministers the Word of God with boldness and faith.  Her passion for God and fervency in prayer is infectious.
Family
Dr. Johnson is married to Derek Barry Johnson.  The couple have four grown children, Valencia, Andrew, Nicholas and Celeste, and three grandchildren, Cameren, Malik, and Kyhlani.
Where to Buy
In addition to securing a copy of Dr. Johnson's book Kingdom Mentoring as an eBook on Amazon, as well as at The Bible Book & Gift Center in Nassau.