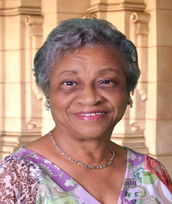 Dr. Susan J. Wallace
Dr. Susan J. Wallace  is a native of West End, G. B., Bahamas, but spent most of her earlier years in Nassau, Bahamas. God called her and  her husband Sydney to relocate to Grand Bahama in January of 1998. They founded Access Ministries International … for Healing and Wholeness, and Access Bible College – a School of Ministry. 
The Ministry and College served both nationally and internationally through teaching, training, counselling, healing and deliverance. Dr. Wallace's books are available online at Amazon.com and at Nassau Stationers in Nassau, Bahamas as well as in Freeport, Grand Bahama.
Books Authored:  12 books including poetry, plays, short stories, and other Christian and Counselling books, books about  the end-times. Her most recent book: "The Crucified One ... His Name  Is Jesus", as well as the recently published book, "Healing For Bipolar Disorder."  This will be followed by her life-story.