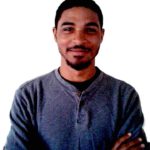 Tate A. Bethel
Tate A. Bethel is a videographer by profession who loves to create music. He is also a prophetic trainer whose amazing supernatural encounters with heaven have become the norm. Tate has a passion for working with youth and encouraging them in their Christian walk. Tate believes every believer can be equipped to hear God's voice and shares his simple step-by-step insights for having an intimate relationship with the Lord.
Available on Amazon.com and in Nassau, Bahamas at God's Good News & Tee's (BFM).
Read free preview: Hearing From God The Fun Way A Beginner's Guide to An Intimate Relationship With God.