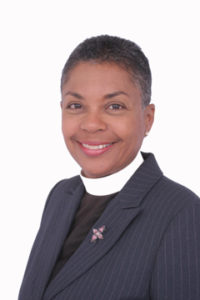 Rev. Angela C. Bosfield Palacious
Bahamian author, Rev. Angela C. Bosfield Palacious is the first female Bahamian deacon (1999) and priest (2000) in the Anglican Diocese of The Bahamas and The Turks and Caicos Islands. She holds numerous degrees, certificates and awards ranging from English to Pastoral Care & Counselling. One of her present responsibilities is serving as  the Anglican Hospital Chaplain in The Bahamas.  She is a weekly columnist in a local paper, the Tribune, Religion Section and Chairperson of the National Maritime Policy Implementation Committee. Rev. Palacious also serves as the First Vice President of the North Eastern Pastors' Alliance in New Providence as well as a presenter for The National Parenting Program and PACE (teen mothers program). Additionally, she is a guest speaker for various denominations, schools and civic organizations. Rev. Palacious has been counselling individuals and couples since 1985.
In the past, Rev. Palacious has served as a member of the College of the Bahamas Council, Public Hospital Authority Ethics Committee, the National Women's Advisory Council, the National Youth Council, and as the chairperson of the Residential Care Licensing Authority.
Books By Rev. Angela C. Bosfield Palacious
Click on the link to view/preview the book:
Is Your Anchor Holding? Meditations on Scripture, Faith and Life
Praying for the Family: Reflections and Prayers
Christian Conch Salad: Meditations on Culture, Faith and Family

Staying Attached to the Vine

A Blessing A Day: Meditations for Any and Every Day of the Year.

Bitesize Blessings For Every Day: Daily Devotionals, Scripture & Review Questions
Secure your copies locally at these fine book stores or directly from the author:
Anglican Diocesan Bookstore (Sands Rd),

Buy the Book (West Bay St),

Hallmark (Marathon Mall),

Logos (Harbour Bay Shopping Centre)

The Bible Book & Gift Centre (Palmdale Shopping Plaza)