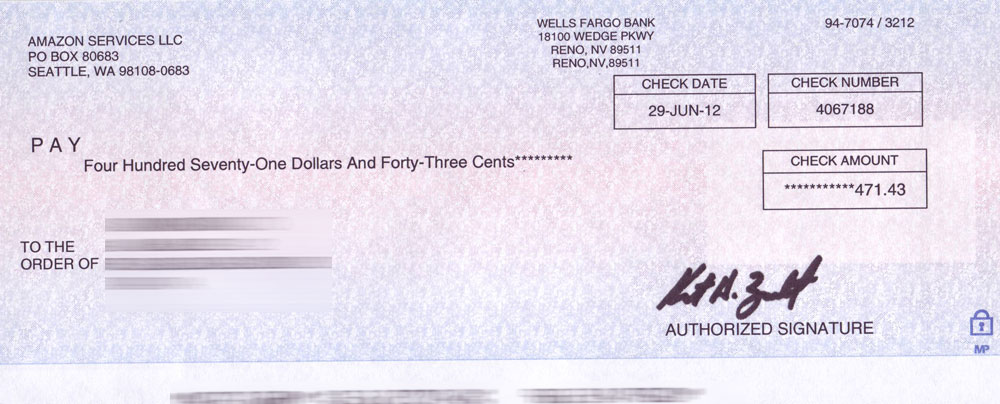 Is Amazon Withholding My Check?
I hear this quite a bit. Everyone thinks their book is a winner and should be driving in oodles of money, but its not always so. The first thought is, "Is Amazon withholding my check?" Quite often they're not. I've heard quite a few sad theories about how Amazon is getting wealthy off of a particular authors books. They claim the funds are not being passed on to them.
How do they know this? Well, three books were sold five years ago and not one dime ever made it to the author. First of all, there is a ceiling that must be reached for disbursements of checks. Unless the books you sold exceeded the minimum amount after fees, you are in an accruing phase. When you have met the minimum amount, your Amazon check will be sent to you.
Direct deposits are different. If you qualify for these you will not have to accrue a minimum fee. This service however is not available for the Bahamas.
Ask Questions Before Making Accusations
Over the years Amazon has adjusted their policies so it is necessary to see what the current payment considerations are. When setting up your account, it was a requirement to complete a form to indicate your preferred payment method. Check which one you selected as well as where you directed the checks to be mailed. Perhaps your checks are stockpiling at an old address. Or if it was co-authored, the proceeds may have gone to your co-author's account or address. It is highly recommended that you research with Amazon first, however before drawing conclusions.
There are some countries that allow direct deposit to your bank account but the Bahamas is not one of those countries. If you are in the Bahamas, you qualify for payment by check unless you have a U.S bank account. As an Amazon author, you can easily find out what is selling from what is not, simply by logging into your Kindle Direct Publishing (KDP) account. This account provides your book sales report, where and when they were sold, as well as a refund report. You can also track what checks were disbursed with the sales information. That's a pretty nifty feature.
If you are still not sure about the sales, there is another little feature that allows you to ask questions; it's called the contact page. Simply drop them a line outlining your concern with a direct question, along with the name of the book, the ASIN and or ISBN number and they generally respond within 24 hours.
No System is Perfect
Of course no system is perfect so if they have made an error with your Amazon check, you'll be glad you reached out to bring resolution. If they have not made an error and your book is just not selling then that's another matter you will need to look in to. The bottom line is to ask questions before making conclusions that may be unfounded and easily resolved.